2023年03月30日(四)「大專生菁英專題研究討論會Undergraduate Research Results Forum」
本校生命科學院與德州大學奧斯汀分校UT Dean's Scholars於2022年4月開始啟動大專生全英語學術交流活動—「大專生菁英研究成果討論會 Undergraduate Research Results Forum」,反應十分熱烈,因而再接再厲規劃2022年10月13日秋季場,以及此次2023年3月30日春季場的舉行。此次以實體 (本校史丹佛會議室) 與UT視訊方式並行,由兩校大學部同學輪流進行全英語研究成果口頭報告分享與交叉問答。史丹佛會議室現場近乎滿座,兩校總參與人數來到約80多位師生,雙方師生踴躍提問,足以顯示大家對此活動的高度期待,及對國際科研交流的積極性。生科院更準備了獎牌及獎狀來鼓勵講者研究上卓越的表現,在場參與的每位同學亦獲得國際交流研習證明,期望能長期持續此項重要國際合作交流。
本院再次邀請郭樹勳副校長擔任開場引言人,接續雙方主講同學輪番上場分享研究成果。生科系四年級生董岱澄同學 (指導老師: 許斐婷副教授),分享主題為「Investigate immune regulation and therapeutic efficacy via regorafenib combined with PD-L1 inhibitor in glioblastoma」,藉由regorafenib合併PD-L1 inhibitor調控腫瘤微環境,提高PD-L1 inhibitor對膠質母細胞瘤之療效。生科系三年級生裴家宜同學 (指導老師: 許蓓茵助理教授),分享主題為「Estrogen-driven epigenetic repression of SIM2s in ER𝛼-positive breast cancer cells」,藉由了解表觀遺傳機制如何抑癌基因SIM2s表達,期以建立另一種治療雌激素受體陽性乳癌患者的治療策略。
德州大學同學分享的研究主題分別為 「Investigation of Environmental Teratogens on the Craniofacial Development of Zebrafish using RNA-Seq」(講者: Yung-Chia Tseng /指導老師: Dr. Johann Eberhart),以及「Single-molecule analysis of cellular membrane protein complexes in lipid nanodiscs」(講者: Lars Deutz /指導老師: Dr. Daniel Dickinson )。四位同學的研究成果都非常精彩,期望透過互相不同研究面向的腦力激盪,能有助於雙邊未來的研究發想及合作。
討論會的尾聲,照慣例進行雙方一同向鏡頭比出了德州大學奧斯汀分校Hook 'em Horns手勢,開心合照後在歡樂氣氛下結束這次的討論會,並期待下一次的交流活動。除了今年度秋季場活動外,生科院亦會著手規劃雙邊實地的參訪活動。中醫大生命科學院與德州大學奧斯汀分校UT Dean's Scholars將持續推進相關的學術交流活動,積極培育與國際接軌的生科人才。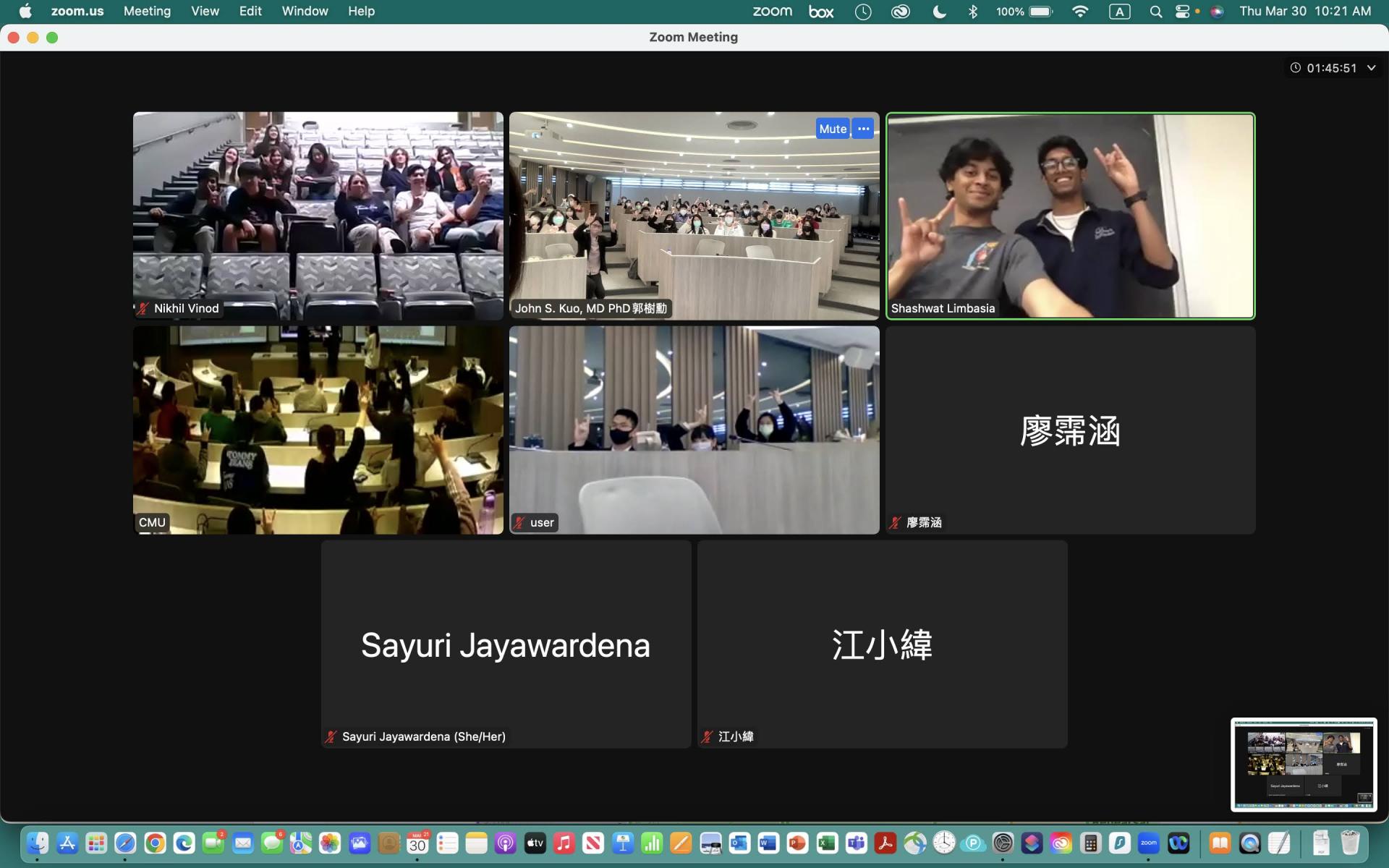 The College of Life Sciences of China Medical University (CMU-CLS) in Taiwan and UT Dean's Scholars of the College of Natural Sciences at The University of Texas at Austin (UT Austin) launched a series of "Undergraduate Research Results Forum" in April 2022.  This English language interactive international research forum was also held on October 13, 2022 and just occurred again on March 30, 2023.  
Specifically, the March 2023 forum was held as a hybrid onsite-online event. Students from CMU and UT Austin took turns sharing oral presentations of individual research projects followed by Q&A sessions. Approximately 80 participants joined from both sides of the Pacific Ocean.
CMU-CLS was honored to have our Vice President John S. Kuo, who is a Chair Professor at CMU and also a Professor at UT Austin, serve as the opening speaker again.  The first student research talk was presented by Dai-Cheng Dong (faculty advisor: Dr. Fei-Ting Hsu), a senior in CMU's Department of Biological Science and Technology, on "Investigate immune regulation and therapeutic efficacy via regorafenib combined with PD-L1 inhibitor in glioblastoma".  He showed that combining kinase inhibitor regorafenib with PD-L1 inhibitor could regulate the tumor microenvironment and improve the efficacy of PD-L1 inhibitor for brain cancer therapy. 
Jai-Yi Pei, a junior from CMU's Department of Biological Science and Technology (faculty advisor: Dr. Pei-Yin Hsu), presented "Estrogen-driven epigenetic repression of SIM2s in ER-positive breast cancer cells".  Her research revealed that understanding epigenetic regulation of the tumor suppressor gene SIM2s may help establish a new therapeutic strategy for treatment of estrogen receptor-positive breast cancers.
The research topics shared by the UT Dean's Scholars were "Investigation of Environmental Teratogens on the Craniofacial Development of Zebrafish using RNA-Seq" (speaker: Yung-Chia Tseng / faculty advisor: Dr. Johann Eberhart), and "Single-molecule analysis of cellular membrane protein complexes in lipid nanodiscs" (speaker: Lars Deutz / faculty supervisor: Dr. Daniel Dickinson). The research results shared by the four outstanding students were very exciting, and generated questions from faculty and students who showed high enthusiasm for this precious international academic event. 
In appreciation, CMU-CLS awarded medals and certificates to all of the speakers for their outstanding research performance. On-site participants also received certificates of attendance in this international undergraduate research forum. We hope that through CMU and UT Austin students regularly sharing different research perspectives and experiences, future research collaborations and student exchanges will be developed and sustained between the two universities.
All participants on both sides showed the classic UT Austin "Hook 'em Horns" gesture to the camera to take a happy group photo to end the symposium in a joyful atmosphere. We are looking forward to the next "Undergraduate Research Results Forum" in the fall of 2023. In addition, CMU-CLS will work with UT Austin to start planning bilateral on-site visits and student summer exchange programs.  CMU-CLS aims to promote international engagement and collaboration, and actively cultivate high caliber researchers and scholars that will make significant scientific contributions to the world.